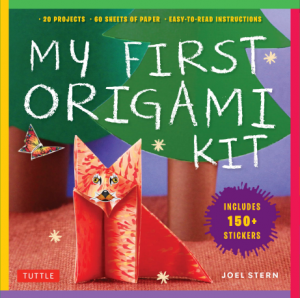 My First Origami Kit is the perfect introduction to the joys of origami for kids of all ages. Featuring sheets of stickers along with folding paper, this kit is sure to keep them engaged and happy for hours!
Included are whimsical origami penguins, foxes, pigs, airplanes and more—even a cute teddy bear that "talks" when you open and close its arms.
All of the papers are colorfully decorated on both sides with a different design for each of the 22 models! There are feathers for the duck, metal plates for the airplane, scales for the cobra, and so on. In most cases, it doesn't even matter which side of the paper kids use—they'll still end up with a great-looking model! Kids will love to add sticker details to their models—eyes, noses, paws, and many other cute features. They can make the finished models look as silly or as serious as they want. Your child will proudly display the finished handiwork—their very first origami!
Click the images below to view large.
Comments on Amazon.com:
"My First Origami Kit can be used as a lovely way to introduce children to the animal kingdom, and the concepts of reptiles, mammals, birds and insects, as all these categories are represented in this book. A particular model I'd like to highlight is a Teddy Bear that "talks" when you open and close its arms. It also folds flat and can be attached to a greeting card. Hint: Having instructions for this model alone is worth the price of the whole book ;-)"
–Leyla Torres
"Joel Stern is a wonderful, generous origami teacher and designer. If you've never done origami before, Joel will get you hooked with this kit. If you have done origami before and are looking for something a step "above" traditional models, this is the next stage. If you are an advanced folder who also teaches, you'll immediately recognize the charm in these models, and the value in being able to teach these to beginners as well as those who are looking for models that are a bit more challenging."
–Michael Sanders 
"I folded all the models in the kit and found the instructions very easy to follow. My two favorite models to fold were the "Caramel Bear" and "Edward the Elephant". These are the two models that are unique to this book and this author. The Bear is something I have used multiple times in cards (for baby showers and Valentine's Day) as its design lends perfectly to be pasted into a folded card. For baby showers I have the bear holding a smaller version of the bear model It looks good in foil paper and it's body portion is very easy to make. The Elephant also provides an easy solution for the body and concentrates on the head. I enjoyed folding and making the trunk for the elephant and thought that it came out really well."
–Bryan Yu