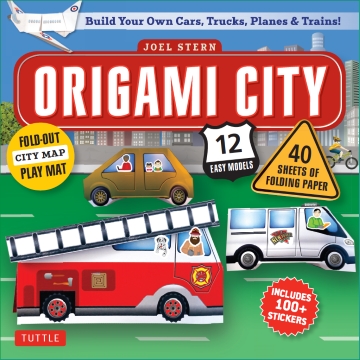 Origami City Kit contains hundreds of detailed diagrams, instructions, and photos to help you construct your own origami city. And along with the instruction booklet are specially designed papers and stickers to enhance each model.
As an added bonus, you'll find a city map filled with roads for your vehicles, an airport for your plane and helicopter, tracks for your train, a bay for your boat, and empty spaces for trees, bridges, houses, and office towers. The city map is recreated on the back side without colors, so that you can use your creativity to make the building blocks of the city any color you like.
Click the images below to view large.
"This fun kit available allows creativity to flow as the participant creates his/her own folded paper city. Complete with foldable city map, 40 high quality origami papers to fold, instructions on how to make 12 origami models and 130 colorful stickers to help decorate your artwork. A great gift idea for the young artist in your life." —Texas Kitchen blog
"Origami City Kit would make a cool birthday gift for any child who loves vehicles, buildings and/or origami…The designs of this kit are so cute, colorful and eye-catching that would surely be gravitated by all children and adults." —Yuki's Origami Blog