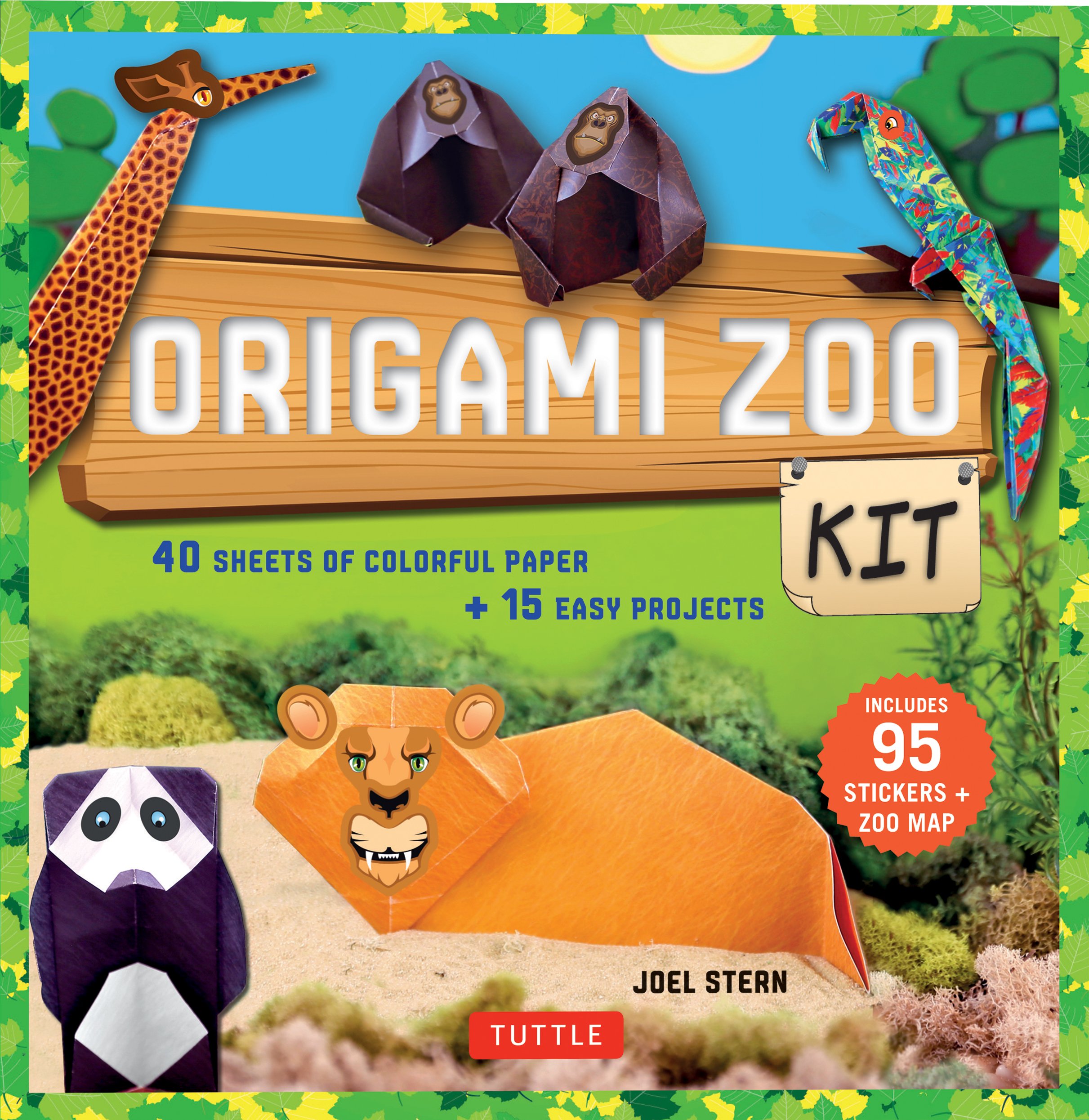 Origami Zoo Kit is designed to stimulate your child's imagination and creativity through the age-old art of paper folding.
It contains instructions and patterned folding papers for thirteen adorable animals along with life-like trees and people (zoo visitors) who together form a complete zoo. Each character comes with simple folding instructions and the colorful papers can be folded up in just a few minutes.
Stickers are provided to add finishing details to the models. Kids can then play with the animals on the fold-out zoo map that is provided. This map also has a coloring activity on the back!
Click the images below to view large.
Comments:
"This kit has everything you need to set up a little origami zoo. My favorite is the gorilla – an instant classic. The booklet is beautifully produced, with attractive photos and design notes for each model. The designs progress in difficulty, so the book will work well for beginners. The paper supplied is shiny and of good quality, with a different pattern on each side."
–Gilad Aharoni (www.giladorigami.com)
"Tristan started off with the panda and the giraffe as the first inhabitants of his paper zoo. The panda was an easy project, but the giraffe was a little more involved, using two pieces of paper, but he did it. Tristan (and the rest of us) have been busy folding zoo animals and playing with them on the zoo map, which a such a neat addition to this set! It's the little details like this that make Tuttle Publishing so great! T's favorite creature to date is the parrot because it's formed in such a way that it will sit on your finger!
— Crystal McLean (www.goodreads.com)
"Joel Stern and Tuttle Publishing have done it again, producing a handsome origami kit that comes complete with 40 patterned origami paper, 95 stickers, a foldout zoo map (with coloring possibilities for the backside), and a pamphlet of clear instructions for 15 projects. Origami purists can appreciate Joel's talent in designing conceptual animal models that are recognizable and simple enough to complete in around 21 steps or less. Non-purists and novice folders will appreciate the challenge of folding models that are from beginning level to intermediate level; and are not restricted to the limitations of strict folding, but are enhanced by the stickers (for eyes and animal faces), which kids always love, patterned paper, and the zoo map for play."
— Michael Sanders